New England Airlines
Block Island's Resident Airline
Serving Block Island Since 1970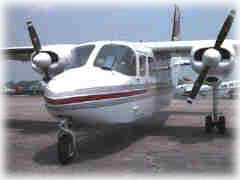 Scheduled flights -- Block Island

Charter flights -- for business or pleasure

Information & Reservations

Scheduled Flights -- Block Island
Daily schedule of flights to Block Island begins at 7:30am (year 'round) from Westerly, RI. New England Airlines has been providing daily scheduled air service to Block Island as a certificated Commuter Airline since 1970!
Westerly, located just off Interstate 95 is an easy drive, or train ride from anywhere in New England. (AMTRAK serves Westerly with daily trains between Washington/New York and Boston)
The flight from Westerly takes you "away from it all" in 12 short minutes. Quiet countryside, un-crowded beaches, night life, quiet life, gourmet meals, fresh seafood (of course!) and even pizza -- Block Island has it all.

Charter flights - for business or pleasure
Flying to Block Island from L.A., Washington, or Timbuktu, New England Airlines will arrange a private charter to meet your arriving airline flight and whisk you to Block Island from any one of the nearby major airports such as Providence, Hartford, Boston, or New York.
Need to leave for an important business meeting? Our charter division will get you there and back.
Charter flights are not only to or from Block Island. New England Airlines is certificated to operate between any points in the "lower 48."

Information & Reservations
Call New England Airlines: 1-800-243-2460 ~ FAX 1-401-596-7366
Write: New England Airlines; 56 Airport Road; Westerly, RI 02891
---

Return to the Block Island Homepage